Where
Elizabeth and Middleton Reefs in the Lord Howe Marine Park
Who
Reef Life Survey
When
Surveys conducted in 2013 and 2018, describe the changes that have occurred during that period.
Why
Elizabeth and Middleton Reefs are the most southern platform reefs in the world. They are home to a unique mix of tropical, subtropical and temperate species, threatened species (for example, black cod) apex predators (for example, Galapagos sharks), and species not found anywhere else in the world (endemic species). The Australian Government allows some fishing on Elizabeth Reef, and completely protects Middleton Reef as a no-take National Park Zone. Monitoring surveys assess whether this protection is allowing the reef to recover from past fishing and whether current protection is reducing further fishing impacts. Surveys also track how coral reef communities are responding to increasingly frequent marine heatwaves.
How
Ecological surveys were conducted at depths ranging from 1 to 16 m, at 33 sites in 2013 and 42 sites in 2018. Divers laid out 50 m tapes along the reef and systematically counted large and small fishes and mobile macroinvertebrates (e.g. sea urchins, clams, crustaceans). They also took photographs along the tape to record organisms growing on the substrate, such as corals, sponges and seaweeds. Going back to the same places and repeating the same methods is the most effective way to track numbers, size and health of plants and animals on the reef over many years. Statistical analysis teases out the patterns from the seemingly chaotic life on the reef.
What did we learn?
Between 2013 and 2018, sharp increases in small cryptic fish numbers, and some increases in large tropical herbivorous fish species, were apparent (See Figure 1). These changes are probably due to rising sea temperatures, because the same patterns were observed on the Great Barrier Reef during the devastating marine heatwave in 2016. Both reefs were dominated by low-lying turf growing on a dead coral base in 2018. This appears to be typical of highly exposed reef fronts, but also of reefs that have suffered past coral mortality. There was slightly higher cover of living corals at both reefs than in previous surveys, suggesting that corals have either been recovering or at least remained stable over the last decade. Slow recovery is expected on these isolated reefs, where connectivity to source reefs and growth rates of corals are naturally low. These reefs remain a stronghold for Galapagos sharks and black cod because of the no-take status of Middleton Reef, and because their isolation helps protects them from illegal fishing.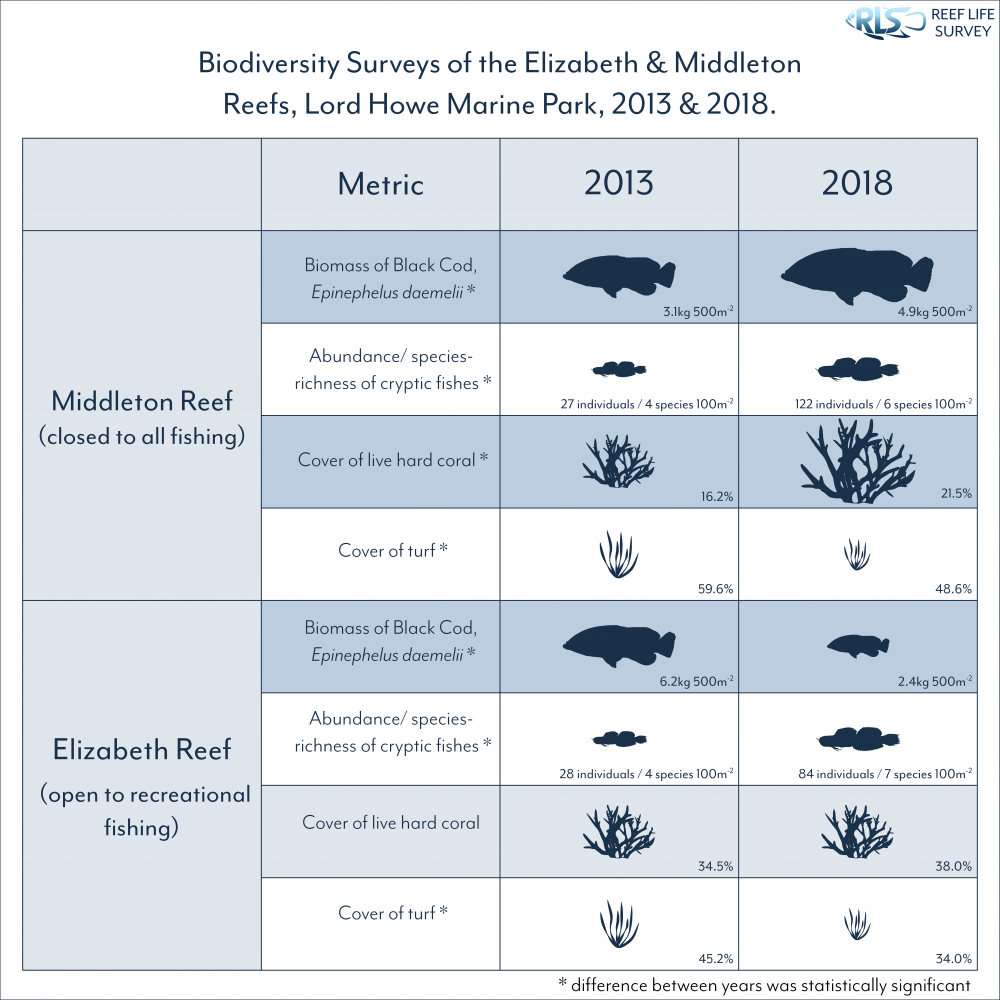 Figure 1: Biodiversity surveys of the Elizabeth and Middleton Reefs, 2013 & 2018.
What next?
Ideally, monitoring surveys will continue at Elizabeth and Middleton Reefs on a 1-3 yearly basis, to continue tracking the reefs and the unique plants and animals that live there as climate change intensifies. Additional research would provide a fuller understanding of these reefs: regular monitoring of water quality, nutrients and turbidity; genetic studies to understand ecological linkages between Elizabeth and Middleton and protected areas off the NSW coast, Norfolk Island, New Zealand and Lord Howe Island, to establish possible pathways of stock replenishment; and studies of whole food webs. Investigation of sources of black cod mortality would also be useful to determine whether catch and release or illegal take of this species (which is protected in Commonwealth waters) is affecting the population size.
Related data and publications
Edgar GJ, Ceccarelli D, Stuart-Smith RD, Cooper AT (2019) Biodiversity surveys of the Elizabeth and Middleton Reefs Marine National Park Reserve, 2013 and 2018. Reef Life Survey Foundation Incorporated.
Edgar GJ, Ceccarelli D, Stuart-Smith RD, Cooper AT (2017) Biodiversity Survey of the Temperate East Coast Commonwealth Marine Reserve Network: Elizabeth & Middleton Reefs, Lord Howe Island & Norfolk Island. Reef Life Survey Foundation Incorporated.
Stuart-Smith RD, Brown C, Ceccarelli D, Edgar GJ (2018). Ecosystem restructuring along the Great Barrier Reef following mass coral bleaching. Nature 560, 92-96
Stuart-Smith RD, Edgar GE, Cooper AT, Gudge SA, Douglass T, (2015) Reef Biodiversity Monitoring at Lord Howe Island 2015. Report for the Lord Howe Island Marine Park and NSW Department of Primary Industries. The Reef Life Survey Foundation. 51pp.